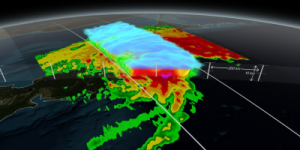 Webcasts / Presentation Slides
The EUMeTrain Event Week on Satellite-derived Precipitation took place between 23–27 November. During this week, 13 online lectures were given in eight sessions. The principles of the measurements were presented, together with different products from both geostationary and polar orbiting satellites. The NWCSAF and H-SAF precipitation products were introduced, along the MPEF MPE and the KNMI CPP products. Two full sessions were dedicated to the very recent Global Precipitation Measurement programme. The core GPM satellite has the capability to not measure rain and snow. The meteorological and hydrological applications of these products were also shown through different cases.
At the end of the event week the participants gained a general knowledge about precipitation estimation from satellites. The presenters put in a great effort to provide many sources for where and how these data can be obtained.
The participation of the event was free; there were a good number of people attending each session. Webcast and slides from lectures will be published at the EUMeTrain website.