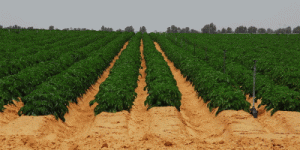 4 – 13 May 2015, Bet-Dagan
The last course of RTC Bet-Dagan, Israel, Climate Change and agriculture, held 4–13 May, was aimed at showing the different impacts of climate change on agriculture and the different methods and techniques that could be used for adaptation and mitigation. Twenty-three participants from 14 countries took part in the course — agrometeorologists, hydrologists, forecasters and extension officers — working for service provision for the agricultural sector of their respective countries.
This time, the course had a novelty — in order to enrich the contents of the workshop, EUMETSAT was asked to provide a remote lecture dedicated to the use of satellite imagery for agriculture. This was provided by Dr Carla Barroso, from the EUMETSAT LSA SAF and facilitated by Mr Giora G.H. Gershtein, IMS RTC Director. This was the first lecture of its kind at the RTC, as well for most of the participants, and it exceeded all expectations. Why was it so successful? Due to the highly-engaged audience and the excellent communication between the three different parties — the audience, lecturer and facilitator.
At the end, everybody, including the lecturer and the facilitator, learnt a lot, and, just as importantly, enjoyed every minute of it!