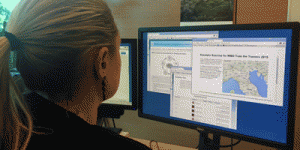 16 February – 31 May 2015 / online
For twelve weeks, beginning in mid-February, WMO collaborated with Eumetcal to offer an enhanced offering of the WMO Online Course for Trainers. This year's offering featured separate paths for Training Managers (six weeks), Part-time Trainers (four weeks), and Trainers (12 weeks). In June, 44 Certificates of Completion were issued in these three categories.
The Online Course for Trainers builds competencies, skills, and knowledge, as defined by the WMO Competency Requirements for Education and Training Providers for Meteorological, Hydrological, and Climate Services. Participants viewed numerous resources; engaged in discussions and activities, and produced small and large projects while exploring topics on Learning Needs, Outcomes, Solutions, Activities, Resources, Assessment, and training Evaluation, as well as Learning Management and Facilitation. Over the 12 weeks, more than 19,000 readings and posts were registered in the numerous discussion forums alone. One of the goals of the online course is to develop a regional community of trainers, and on this occasion in particular, the course was a resounding success.
In November, a Training Development Workshop will be held to bring together many of the successful trainers to put their skills into action implementing the Training Development Plans they produced during the online course.