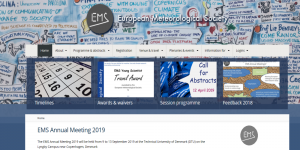 5-9 September 2019 / Copenhagen, Denmark
EUMETSAT will chair a new session on climate applications of satellite data at the 2019 EMS meeting, taking place in Copenhagen, 9– 13 September.
The session will present existing applications and products based on Satellite Climate Data Records and "near real time" data, with relevance to climate to motivate and support the use of satellite data. A broad ensemble of thematic variables contributions is encouraged, from climate monitoring to atmospheric composition. Contributions may address novel science-driven (operational) applications, methodological approach, data fusion and innovative products and services.
A few keynote talks are foreseen, to provide an overview of the current applications of satellite climate datasets with potential downstream applications.
Deadline for abstract submission is 13 April.