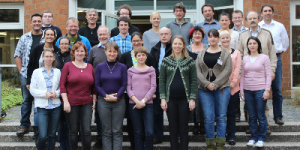 November 2014, online/Langen
International training courses on satellite meteorology have been offered since 2009. Although the first course was a co-operation between EUMETSAT, EUMETCAL and the DWD, subsequent courses in 2011 and 2014 involved the co-operation of EUMeTrain. EUMETSAT has generously sponsored the course participants from transition countries, and EUMETCAL gave financial support to one student in the 2014 course. This course was blended, meaning that 10 topics were covered during the online phase (self-study and live presentations) and students attended a one-week classroom phase at the training centre of the DWD in Langen.
Five trainers came to the classroom part in Langen, in order to teach the students and to guide them through the exercises and group work. Many students were very active in the course forum, resulting in an intense exchange of experiences and ideas. Some students worked together during their preparation of the homework. About 80% of the students provided the proof of their high skill by delivering at least 50% of their work at a high quality. Some participants impressed the trainers with outstanding engagement.
Despite the formal evaluation of this seminar the trainers have already received very positive feedback. The next course is planned for 2016.