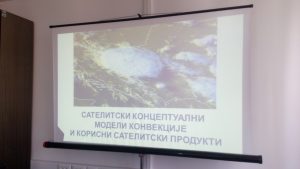 The Serbian Hydro-meteorological Service (RHMSS) has been steadily improving the continuous professional development of their staff of forecasters by organising themed internal training courses. A refresher course for aeronautical forecasters in autumn 2015 and a course on summer convection in spring 2016 represent the latest outcomes of these outstanding progress in training. The courses have been developed and implemented by trainers and subject matter experts of RHMSS.
In this regard Eumetcal has played a significant role in supporting the efforts of RHMSS, for instance by providing technical support in establishing and administrating a dedicated area in the Eumetcal learning platform to support the course delivery.
In addition RHMSS trainers have had the opportunity of improving their training skills and competencies by successfully attending the WMO Course for Trainers in RA VI jointly organized with Eumetcal in 2015.
RHMSS has thus been capable of benefiting from the training opportunities provided through the training network and infrastructure that Eumetcal is coordinating. And this does represent an accomplishment of the Eumetcal project, which have, among the others, the mandate to support the skill development of European trainers and to facilitate training activities in its member states. However, these achievements require, first of all, enthusiastic and committed people like the RHMSS staff, in particular Tamara Gnjidić Vukša and Tatjana Majstorovic.