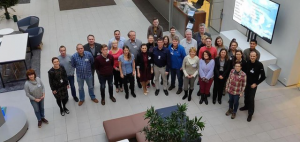 The Russians are coming!
Helsinki is too close to the EU outer frontiers to have the SIMS course offered there by FMI, EUMETSAT and Eumetcal to go unnoticed by our Russian colleagues. The neighborhood resulted in overwhelming 13 applications for the course we've got from Russia. Thanks to local organizers at FMI, who managed to provide a bigger room for the course, we were able to offer the course to everybody who applied, the Russians included. So what do the Russians think about the course they completed in Helsinki?
"I had no prior experience with such a simulator. A unique solution that allows the user to be as close as possible to the actual conditions."
"Simulators… help to plunge into unfamiliar environment, give the opportunity to experiment and analyze the results of the decisions made."
"Simulators provide an excellent opportunity to live through complicated situations that are unlikely in the operational forecasting practice."
"The workshop was especially useful for me in further planning of such training activities."
"I will use this tool in my work as an element of gamification."
"I will surely use this knowledge in my future projects and will try to practice it more."

So if you notice the growing number of weather simulators in Russian language, you now know how it all begun!