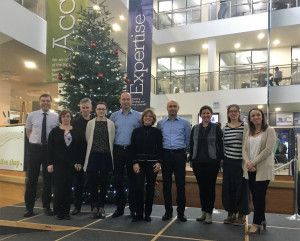 The UK Met Office and Eumetcal delivered a residential course on Competency Assessment at the Met Office in Exeter, UK, from the 4th to the 6th December 2018. Competency based assessment continues to have increasing relevance in the operational meteorological community and this course followed on from work an Expert Team completed in identifying the underpinning requirements of competence based assessment.
The course timetable went through the main stages of the assessment cycle, with background theory, followed by discussion of best practice and the opportunity to assess as well as be assessed in a couple of practical simulations. There was also the opportunity to discuss areas related to the Human Factor when assessing and QMS.
For the course to be a success it needed the full involvement of the delegates, whose contributions made sure there were excellent points raised and overall the opportunity to progress best practice ideas in the competence assessment environment. There were eight delegates on the course, from Denmark, Estonia, Kosovo, Poland, Serbia and Montenegro and on behalf of the UK Met Office and Eumetcal we thank them for their contribution to the course as well as those of the original Expert Team.