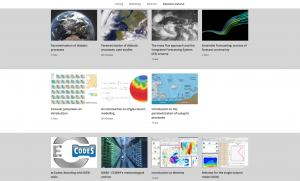 ECMWF has recently released a set of eLearning online resources freely available in their website at https://www.ecmwf.int/en/learning/education-material/elearning-online-resources.
The online resources are targeted both to NWP researchers and operational forecasters using the ECMWF products in their working duties.
The ones particularly scoped for operational forecasters are:
Ensemble Forecasting: sources of forecast uncertainty
Forecast Jumpiness: an introduction
The ECMWF Extended range forecasts: Introduction
The Extreme Forecast Index (EFI) and the Shift Of Tail (SOT) index
The development of eLearning resources is a clear signal of the strtegy of ECMWF to integrate traditional classroom training with eLearning opportunities.