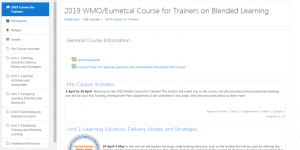 29 April to 2 June with a pre-course from 1 April to 26 April / Online
This year's WMO Online Course for Trainers was organised for RA VI and other international participants. At request of the EUMETNET Working Group of Education and Training, it was focused on online learning. After hard work from the WMO ETR Office, with financial support from Eumetcal, this resulted in the first WMO/Eumetcal 2019 Advanced Course for Trainers on Blended Learning.
In a very tight, active and intensive five weeks, 30 participants from all WMO Regions were updated on many learning solutions, delivery methods, tips, and experiences on how to facilitate blended learning in the most effective way.
The participants had to complete a rigorous project as a key part of their completion requirements. In these projects, the students were guided and supported by their coaches to develop a blended learning strategy and solution for a training initiative they faced at their own institution.
The course was a great success, which the students thought was very useful. As well as learning how to make a course a good course, they gained many new insights into how you can create active and engaging courses in both online and classroom environments.