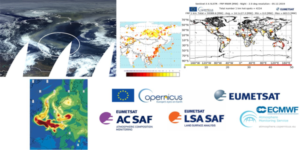 11-18 May 2020 / Online
The User Workshop and Training on Fire Monitoring, engaged more than 100 participants in the online sessions from 11 to 18 May 2020.
Webinars with experts on the dataset took place every day, followed by hands-on sessions on the JupyterHub. Datasets included principal compounds from CAMS, Sentinel 5P, Metop GOME-2, Metop IASI, the LSA-SAF and EFFIS. The presentations and the recordings of each webinar are available online on the EUMETSAT training platform.
The training was jointly organised by EUMETSAT, CAMS–ECMWF, the AC SAF and the LSA SAF, with the support from Copernicus.