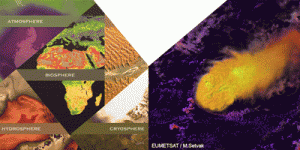 ONLINE MODULES
French versions of  Convective Storms (Systemes Convectifs ) and Monitoring the Climate System with Satellites  (Veille climatique satellitaire) are now available. The two resources were produced by EUMETSAT, and the second one in collaboration with the COMET program.
Veille climatique satellitaire will help a French-speaking audience explore the benefits and challenges of monitoring the climate system with satellites. This study includes examples of events at the different scales, from seasonal to longer term.
The Systemes Convectifs  lesson focuses on the satellite observations of deep convective storms, and their interpretation, as described in the December issue of The Training Bulletin. The translation is a result of a project pursued by EAMAC trainer, Francis Koyame (Niger), when visiting EUMETSAT.  A Spanish version of this lesson should be available later in the year.