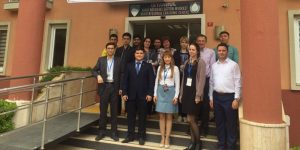 16-18 May 2017 / Istanbul, Turkey
In cooperation with EUMETSAT, TSMS organised a training course on the use of EUMETCast stations for the analysis and monitoring of Meteosat data for the central Asian region, from Meteosat-8 and Meteosat-10.
Ten participants from Uzbekistan, Kazakhstan, Turkmenistan, Kyrgyzstan and Tajikistan actively participated in the hands-on work. Their aim was to become familiar with the features recognisable in the high quality Meteosat-8 imagery, which, following its move to 41.5° East, has become an excellent monitoring tool in that region.
All participants are now registered in our Earth Observation Portal (EOP) for historical imagery and products. They are also committed to generating case studies on the next significant weather situations what affect their countries.
The software in their stations was recently upgraded by TSMS to cope with the Meteosat-8 1.5-level data — even on a single computer, as reported by Mr Erdem Erdi from TSMS, software developer and project manager for SADCA.
Mr Erdi describes a rewarding experience: "Tajikistan had reception problems and was not be able to receive data. After the training in Istanbul had finished and participants returned to their homes, and while I was trying to find some time and opportunity to further investigate the problem remotely, a colleague from Kazakhstan jumped in and remotely resolved the problem. I think this was a very positive event for demonstrating one of the goals of the SADCA Project: improving regional collaboration between the countries."