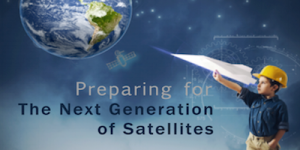 16-20 November / online
The next generation of satellites will bring exciting new possibilities and challenges. Looking to the future, the WMO-CGMS Virtual Laboratory (VLab) organised a week of events with satellite operators and institutions working on the development, testing and training for the use of satellite imagery.
During the event, 11 online sessions were offered by the Japan Meteorological Agency (JMA), the China Meteorological Administration (CMA), the India Meteorological Department (IMD), NOAA, the Cooperative Institute for Research in the Atmosphere (CIRA), EUMETSAT, the National Institute for Space Research (INPE), the Korea Meteorological Administration (KMA)  and the COMET Program. The event, which was in English, linked presenters and participants from six WMO Regional Associations, showing high interest in the training and information available to help users prepare for the coming satellites.
Event organiser Kathy-Ann Caesar (VLab co-chair, Caribbean Institute for Meteorology and Hydrology (CIMH) said: "This event showed the true value of what can be achieved when partners come together to work on a common cause."
For more information and resources see here.