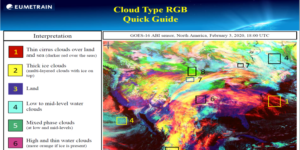 EUMeTrain
Three new quick guides have been added to the EUMeTrain section – two new single channel guides and a Cloud Type RGB quick guide. All new quick guides refer to applications that will be ready once the new spectral channels of the upcoming MTG satellite are available.
The single channel quick guides refer to channels in the near infrared: 1.38 µm and 2.25 µm. Both quick guides explain the main characteristics of these spectral channels and point out their future applications. Images on the quick guide originate from GOES-R ABI sensor and the Himawari imager, that are used as proxies.
The Cloud Type RGB makes use of the NIR1.38 µm channel that has good capabilities to detect high-level thin cirrus clouds. This RGB is particularly appealing because of its vivid colours. It differentiates between cloud height, cloud phase and cloud optical thickness.
More quick guides on new RGB types will be published in the coming months, such as the True Colour RGB and the Fire RGB. All of them will be available with MTG.