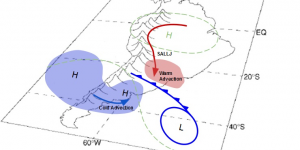 Online Manual
The conceptual model library for southern hemisphere is now available, with seven new Conceptual Models.
Conceptual Models for Southern Hemisphere (CM4SH) was a joint project between four southern hemisphere Centres of Excellence: Argentina, Australia, Brazil and South Africa, reinforced by the expert group from the Agency for Meteorology, Climatology and Geophysics, Indonesia (BMKG). The project was co-funded by WMO and EUMETSAT. The first CM4SH project was completed in March 2014, and the second project in June 2016. In total, the teams created and published 15 new Conceptual Models.
The purpose of the project was to improve warnings and awareness of weather risks through the use of conceptual models. The philosophy of using satellite material, together with other meteorological material, was agreed during the development of Conceptual Models. Conceptual Model (CM) descriptions are materials widely used in weather forecasting, as well as in training at universities and other meteorological training centres.
As the outcome of the project, seven new Conceptual Models were recently published at CM4SH. They are also available in the SatManu Conceptual Model library.