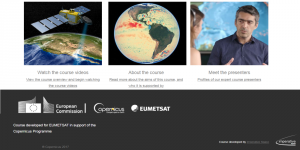 Online
The material from the 'Monitoring the Oceans from Space' Massive Open Online Course (MOOC), developed by EUMETSAT as part of the Copernicus programme, is now available to download and share and is freely available.
The short videos and the interactive tasks introduce the many applications of ocean satellite data, covering a broad range of topics from ocean circulation, to fisheries, climate, and the socio-economics of managing ocean resources. The course has been run twice since the launch of the first Sentinel-3 satellite in February 2016.
Questions about the MOOC content can be asked on the EUMETSAT Copernicus Marine User Forum: http://forums.eumetsat.int/forums/forum/copernicus-marine-calval/.
The MOOC content is available from this website: http://www.oceansfromspace.org/.