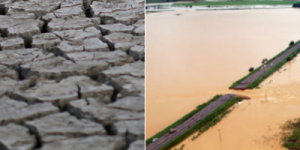 December 2014, online
Droughts, floods and landslides are extreme events that occur at least once every year in some part of the world, causing substantial economic and social impact, sometimes even casualties. How can we be prepared for these natural hazards?
From the synoptic and hydrological point of view, some variables can be used as early indicators for such disasters. Moreover, satellite data can be used for identification and monitoring of these events. Early warning systems, most based on satellite data, have, therefore, been set up by different organisations worldwide. From 1–5 December 2014, several experts from Europe, Africa, United States and Brasil shared their knowledge and experience on these adverse environmental events during an online event week on Droughts, Floods and Landslide, promoted by EUMETRAIN (an international training project sponsored by EUMETSAT to support and increase the use of meteorological satellite data). All the recordings and lecture slides will be available on official eumetrain events page.