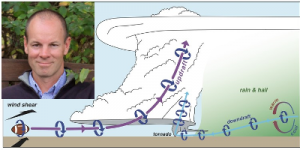 4 to 8 June 2018 / Wiener Neustadt, Austria
ESSL's advanced-level course on forecasting severe convection in 2018 will be given by Prof. Paul Markowski, renowned tornado and mesoscale meteorology scientist from Pennsylvania State University. The lectures target meteorologists with prior forecasting experience of synoptic-scale weather and prior exposure to the fundamentals of atmospheric dynamics.
The lectures will cover the dynamics and prediction of severe thunderstorms and their attendant hazards, drawing upon the body of understanding obtained from decades of prior theoretical, observational, and numerical modelling studies, as well as the latest, state-of-the-art strategies in use today. Topics include convection initiation, the influence of the environment on convective storm mode, isolated convective storms, convective systems, large hail, tornadoes, damaging straight-line winds, and ingredients-based forecasting. The seminar includes hand-on forecasting exercises during the afternoons. At the end of the week, participants may choose to take part in an examination. Participants that pass this examination receive a Testimonial. Registration is possible by mid-December 2017 on the website of ESSL.