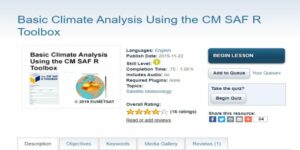 Online asynchronous modules on different topics related to geosciences with a focus on meteorology, atmospheric sciences and climate provided by MetEd. MetEd is populated and maintained by the COMET® Program, which is part of the University Corporation for Atmospheric Research's (UCAR's) Community Programs (UCP). EUMETSAT contributed to a number of them, dealing with subject around meteorological satellites.
Who are they for? COMET modules are available for different skill levels.
Access them at https://www.meted.ucar.edu/index.php. The modules are available at no costs upon registration with COMET.