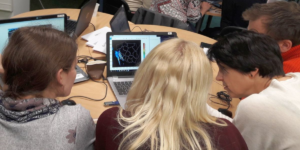 Spring 2020 / Reykjavik, Iceland and Krakow, Poland
The next NOMEK and Baltic+ courses will take place in Spring 2020.
The 26th NOMEK course will be hosted by the Icelandic Meteorological Office (IMO) in Reykjavik. This course is intended for the Nordic forecasters with invited participants from nearby regions.
Forecasters from the Baltic States and Poland, with invited participants from nearby regions, will meet at the Baltic+ blended course. The course will include three weeks online and three days face-to-face interaction. The classroom phase will be hosted by Institute of Meteorology and Water Management (IMGW) in Krakow, Poland.
The teams planning and delivering these course will meet in the coming weeks to design the course programme. The course information and invitations will be distributed through the national points of contact, and will also be published on the EUMETSAT / VLab Training calendar.