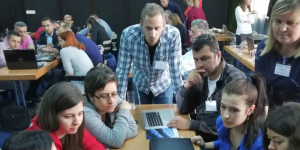 The 2nd SEEMET Basic Satellite Training Course on the 'Basics of satellite meteorology and satellite image interpretation and their application in operational weather forecasting' was held in May in Sarajevo, Bosnia and Herzegovina. Twenty-five participants from 10 countries (Albania, B&H, Bulgaria, Croatia, Hungary, Kosovo, Moldova, Montenegro, North Macedonia, Romania, Turkey) took part. The course was conducted in English.
The main topics were:
Basic cloud identification in satellite images
Fog and convection forecasting
Analysis of fronts and rapid cyclogenesis over the Mediterranean/Balkan region
Surface features seen in satellite imagery and in Land SAF products
On the final day, a short introduction to MTG was given, with several examples of 'MTG in action' using Himawari-8/9 and GOES-16/17 cases.
About 50% of the course consisted of practical work on RGB image interpretation, image analysis in terms of conceptual models, severe weather simulator exercises and quizzes. For the practical work and case studies, the EUMeTrain online training platform (ePort) and the RGB quick guides proved to be very useful.
Overall, the participants improved their satellite image interpretation skills and applied their new skills during the practical sessions (case studies). This will help them to better analyse cloud properties (like thickness, phase, height, particle size, precipitating or not, etc.) and surface properties (in cloud-free areas), which in turn helps to identify high-impact weather situations.
The next SEEMET course will be an advanced course and will take place in May 2020; the place is still TBD.