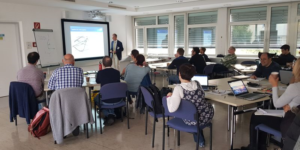 The course had been two years in the planning, but it finally started in October 2019 with a six-week online phase. This phase comprised of three two-week long topics on convection, low cloudiness and stratus, and fronts and cyclogenesis. The classroom phase took place in Vienna, from 18-22 November.
For the classroom phase, a maximum number of 20 participants was foreseen in order to ensure a good mentoring of the participants. The classroom phase comprised of lectures, practical work and role games. It focused on the topic of cyclogenesis from the satellite, radar and synoptic point of view, including the warning aspect, i.e. the communication with clients.
The course was organised by the three German-speaking national weather services – Austria (ZAMG), Switzerland (Meteo-Swiss) and Germany (DWD). While the online phase will always be managed by all three weather services, the classroom phase will be organised by only one weather service, starting this year with ZAMG. The course, sponsored by EUMETSAT and the organising national weather service will be repeated every year.