The current phase of the Programme started in January 2013 and will last, with an extension of one year, until the end of 2018. The Coordinating Member is Royal Netherlands Meteorological Institute and the Programme Manager is Dick Blaauboer.
The organizational overview above presents the Forecasting Programme and its six Projects. The Programme Manager reports to the EUMETNET Scientific and Technical Advisory Committee, STAC. The STAC has two Working Groups in the Forecasting domain:
– Working Group on Education & Training, WGET, Chair Heleen ter Pelkwijk (KNMI):
This Working Group advises STAC on Education&Training issues relevant for the EUMETNET Members including the scope and functioning of Eumetcal, EUMETNET's own Project for E&T. In this sense it has a function of steering group for Eumetcal. It also advises on the future strategy for E&T.
– Working Group on Cooperation of European Forecasters, WGCEF, Chair Christian Csekits (ZAMG)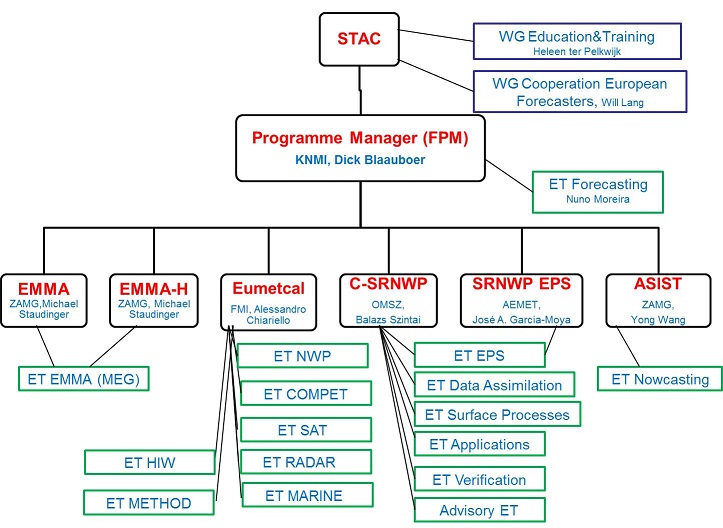 This Working Group has been established in 1995 as a Working Group for European forecasters. Since October 2013 it has been agreed that the Working Group would operate as a EUMETNET STAC Working Group by including an advisory role to STAC in forecasting issues next to its original goals as European forecasters group. More information on WGCEF can be found here.
Within the Working Group a Task Team is active working on a procedure to harmonize the naming of storms over Europe. Currently several independent services to name storms are active which is confusing for the public and the media. Storm names turn out to be very important in reporting on storms in the (social) media.
Within the Forecasting Programme several Expert Teams are active. They serve as an expert group advising the Project/Programme Manager. The Expert Team Forecasting advises the FPM. Members are the other Project Managers within the Forecasting Programme plus six Members from the group of Heads of Forecasting. The Chair is Nuno Moreira (IPMA) and the Vice-Chair is Goran Mihajlovic (RHMSS). Other Expert Teams are described on their relevant pages of the website.
In order to tune the programme activities as much as possible to (changing) requirements from the national weather services a yearly meetings with the Heads of Forecasting of the 31 members of EUMETNET are conducted. This is a major opportunity for feedback in both directions.